Those foreign citizens who are planning to visit their friends or acquaintances living in Russia, can apply for a private visa to enter Russia. For this purpose, they need to receive a letter of invitation to Russia. An invitation letter, a completed visa application form, and other necessary documents must be submitted to the Russian Consulate and a consular fee must be paid. Private (homestay) visa (or a letter of refusal to issue the visa) will be issued within the statutory period. Both an individual and an organization registered at the FMS can arrange an invitation for a private visa.
What is a Rusiian private visa?
Private visa is a document that allows a foreign citizen or stateless person to enter Russia and stay on its territory with the purpose of visiting relatives. In order to apply for this type of visa, it is necessary that an individual should arrange an invitation.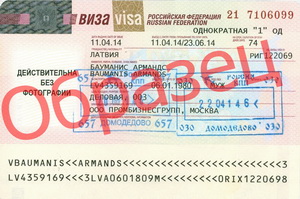 ---
All information in one article in all languages!
---
Russian private (homestay) visa - Quick overview:
| | |
| --- | --- |
| Validity period: | 30-90 days |
| Number of entries: | Single or double entry |
| Invitation price: | Call or Get invitation online! |
---
Please, read our guides:
---
How can a foreign citizen be invited to the Russian Federation?
A person who is at least 18 years old and has a permanent registration in the Russian Federation can execute an official invitation for a foreign citizen. To do this, an individual must apply to the Department of the Federal Migration Service at the place of residence and submit the following documents:
his/her internal passport (passport of the citizen of the Russian Federation)
copy of the foreigner's passport
certificate of his/her income
certificate of payment of the State fee
letter of guarantee for the invitation following the form, stating that a citizen of Russia, who invites a citizen of another country undertakes an obligation to provide him/her with housing and medical care (if necessary), and agrees to pay the deportation of a foreign citizen from the country in case he/she voilates the law.
If a citizen of the Russian Federation invites a person who is a national of a high migration risk country, he/she will be interviewed by a Federal Migration Service official. Private visa invitation processing time may vary depending on the FMS office. However, according to the law, it cannot exceed 30 days since the day the documents for private visa have been submitted.
---
---
If relatives or friends of the foreign citizen do not have the time or possibility to arrange a private invitation (if they are not citizens of the Russian Federation as well, for example), a legal entity can execute the invitation.
In this case, all the necessary documents should be submitted by its representative to the Department of the Federal Migration Service at the place of registration of the legal entity. In this case, the regular processing will take 18 working days, while the expedited processing is completed in 9 days.
To arrange an invitation for a private visa, the following documents are required:
completed visa invitation application form
copy of the foreigner's passport
copy of a previous Russian visa, issued to the foreign citizen
---
Need help in obtaining private invitations?
We do not issue private invitations. It should be done at the FMS by a person who invites you or you can order a tourist or business invitation on our site.
Besides that, we have a great
Full step-by-step guide to obtain Russian tourist and business visa
---
Order Russian tourist visa invitation
---
Obtaining a private (homestay) visa is complicated due to the necessity to have an invitation executed by the party located in Russia. Such an invitation is issued on the FMS letterhead in the territorial department of the Federal Migration Service on the basis of a private visa invitation application and other necessary documents which must be submitted by the inviting party. A positive, as well as negative decision can be made based on the results of consideration of these documents. If the visa invitation issuance is refused, all the reasons will be given in a written form.
Read more: Russian private (homestay) invitation letter
The sample of the visa invitation application you can find in the private visa help section
In case of a positive solution the invitation is issued on a special letterhead which then should be sent to the foreign citizen. It is necessary to make sure the foreigner's passport will be valid for at least 6 months after his visitor visa expires.
Private visa can be issued for 30 or 90 days and be valid for a single or double entry. Private visa does not imply the foreign citizen intends to travel outside the region where the person who invited him resides. In addition, the citizen of Russia must register the foreigner with the migration authorities in due course. If the rules of the migration registration are violated a fine shall be imposed on both the Russian and the foreign citizen.
Since preparing an invitation for the private visa takes a lot of time, foreigners often choose a tourist visa if they plan to spend up to 1 month at their relatives in Russia or a business visa if they would like to stay in Russia from 30 to 90 days. It means that the tourist and business visas are a decent alternative to a private visa.
---
Unfortunately, it is impossible to prolong a private visa.. However, in some exceptional cases, such as emergency treatment or other force majeure situations, it is possible to extend a visa.
Read more about the general principle of extending a Russian visa: What is Russian visa? > How to renew Russian visa?
---
---
Need help in obtaining private invitation letter?
Find information about the application form for Russian private invitation letter here
Frequently Asked Questions