OSTWEST.COM LLC is pleased to provide our customers with convenient payment methods.
Please note that we accept the following credit/debit cards: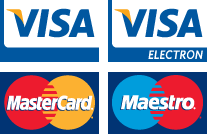 Our website is 100% secure. We use SSL Secure Server Encryption to make sure that your credit card data is safe.
We offer various payment options for you to choose the one from the list below that suits you better:
Online payment by Credit/Debit card
The payment could be done online securely with your bank card. After submitting online order for services, you will be provided with the option to make a payment via our website payment system powered by Uniteller.
Offline payment by Credit/Debit card
The payment could be done by credit/debit card offline. For that you will be offered to fill a credit card authorization form with your credit card details, sign it and send it back to us as a scanned copy to our email or fax number +7(812)578 15 07. The copy of least one side of credit card is obligatory to send. These documents are needed to our bank to check that the signature and credit card details on the payment form are the same as on the card (to prevent fraud and illegal using of credit cards). These documents will be deleted and destroyed after we get money on our account, so you not have to worry that personal data might be used somehow after the payment.
The payment could be done by Paypal to our Company account. The transaction usually takes few minutes to clear. Extra fees apply, you will need to cover paypal transaction fees (5%).
The payment could be done by bank transfer in EUROS/USD to our Company bank account assigned to the credit card our CEO (General Director). The transaction usually takes 3-5 business days to clear. No extra fees apply, you will only have to fully cover bank transaction fees.
Transfer by Western Union/Money Gram
The payment can be done by money transfer by Western Union or Money Gram. Please contact us for transfer details.