---
Tourist voucher confirms that the foreign national had paid for tourist services and thus acquired the right to receive them. In addition, the tourist voucher being issued to the foreign citizen confirms that the company, that issued this document, assumes responsibility for the foreigner during his/her stay in Russia.
---
A tourist visa support letter typically contains the following information about the foreign citizen:
full name
gender
date of birth
passport number
passport expiry date (must be valid for at least 6 months prior to the date the foreigner intends to depart from Russia)
citizenship
purpose of travel (tourism: sightseeing; special purpose tourism: visiting sports events, exhibitions, sites of pilgrimage, etc.)
travel route and places of accommodation (cities and places)
number of entries requested (tourist visa grants a single or double entry)
dates of entry and exit
additional information.
---
Tourist voucher must include the following information regarding the travel company:
name of the legal person
reference number
registered tour operator's number
legal address
phone number.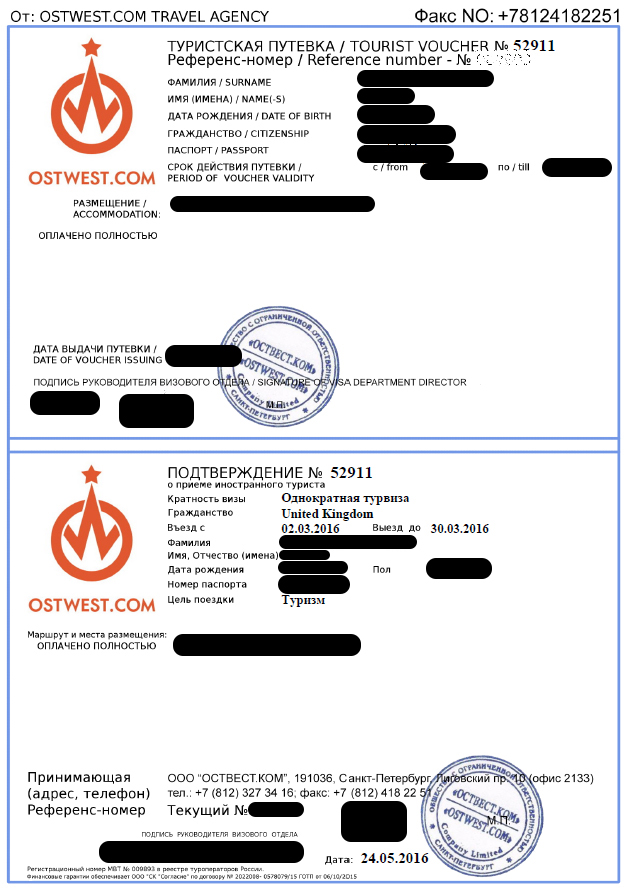 To issue a travel voucher, you will need to fill out a form specifying the following information: the foreigner's passport data, scheduled dates of entry and exit, the number of entries requested. Our specialists will use these details to fill all the required graphs in your tourist voucher and confirmation of acceptance of the tourist.
Step 1: Fill in our online form to obtain our Visa invitation to Russia
Step 2: Pay $15 USD service fee for arranging the tourist visa invitation
Step 3: Instantly receive the invitation letter by e-mail or fax
Read more: How to get Russian tourist invitation letter?
The voucher will be sent to the e-mail address you specified in the form. You can also pick up the original printed voucher at our office on weekdays from 10 AM to 6.30 PM or via courier.
Important information:
When arranging a tourist voucher, please note that you a visa to Russia will be issued on its basis only if the purpose of your visit is tourism. This means that, after receiving your tourist visa invitation, you will need to specify the purpose of your travel as tourism (not business, employment, etc.) when applying for your visa at the Consulate. Also note that you will need to specify only those cities and accommodation sites which you have listed in your travel voucher when filling out the consular form. By carefully filling out the consular form you will avoid many problems.
Get a Russian tourist visa invitation letter
Frequently Asked Questions