Confirm action
Making a new order will create a new environment. You can always continue editing your previous order by clicking on the link sent by e-mail
Tour to Bazhov's Places Nature Park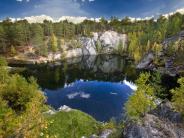 Tourists will travel by car with an instructor and guide to the nature park "Bazhov's Places", one of the most picturesque places in the vicinity of Yekaterinburg, covered with legends and tales of the gray Urals. Past the dam and the old Kupeisk zaimka, past the spring, the water of which is able to rejuvenate anyone, past the glade with blue fog, tourists will reach the amazingly beautiful mountain lake "Talc Stone" - a monument to the Ural nature.
This lake is of unnatural origin, which does not detract from its beauty. In the middle of the XIX century, talc began to be mined under Sysert, for this purpose they dug a huge pit. While digging, they touched the aquifer, and groundwater began to seep at the bottom of the pit. Over time, a lake was formed here, the coolness of which saves the Ural ecotourists from the summer heat.
The rise on a 30-meter cliff and a photo for memory are required! The program also includes a walk along the lake shore and a picnic with a fire.
---
Add this excursion to my tour