Confirm action
Making a new order will create a new environment. You can always continue editing your previous order by clicking on the link sent by e-mail
Tour to the State Hermitage Museum (by car)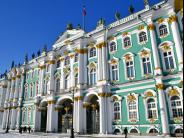 This tour to the Hermitage (with transfer by car or bus) will introduce you to the main rooms and expositions of the largest museum in Russia and one of the most famous museums in the world. The museum occupies five buildings: the Winter Palace, the Small Hermitage, the Old and the New Hermitage and the Hermitage Theatre.
The interiors of the Winter Palace are implemented in the Baroque style. In addition to the huge collection of paintings the museum also houses a collection of prints and drawings, antiques, objects of Western European applied art, weapons, medals and books (Voltaire's library). In the 19th century the Hermitage began to receive archaeological artefacts which among other things have formed a famous collection of Scythian gold.
At the Hermitage museum you can get acquainted with the art of Ancient Egypt and Mesopotamia, Ancient Greece and its colonies. You will also examine the culture of the Etruscans and ancient Siberian tribes, Egyptian mummies, antique pottery,Tanagra statuary and more.

If you would stop at each exhibit for one minute and spend 8 hours a day at the museum, it would take you almost 15 years to examine all the collection that the Hermitage museum houses.
---
Add this excursion to my tour