Confirm action
Making a new order will create a new environment. You can always continue editing your previous order by clicking on the link sent by e-mail
Visit to the cathedrals of St. Petersburg (by car)
3 hours
Holiday: Wednesday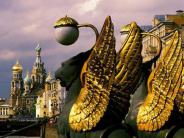 This guided tour by private car or bus will include visits to the three main cathedrals of St. Petersburg: St. Isaac's Cathedral, Church of the Saviour on Spilt Blood and the Holy Trinity Alexander Nevsky Lavra.
St. Isaac's Cathedral (the Cathedral of St. Isaac of Dalmatia) is the largest Orthodox church in St. Petersburg and one of the most impressive buildings in St. Petersburg. The gilded dome of St. Isaac is clearly visible from various places in the city. The exterior is decorated with 112 granite columns each of which weighs about 100 tons and more than 400 bas-reliefs, the interior is impressing with elegant marble, malachite and lapis lazuli decor. St Isaac's colonnade located at an altitude of 43 meters offers stunning views of the city.
Church of the Resurrection or "Saviour on the Spilt Blood" was built on the site of the assassination of the Emperor Alexander II. The cathedral was built in the Russian style accoding to the model of St. Basil's Cathedral in Moscow. The main decoration of the construction is imosaic decoration that covers the area of ​​over 7,000 sq.m. During the Soviet period the church was used as a warehouse because of "no cultural value." In 1997 the church was renovated and re-opened.
The Holy Trinity Alexander Nevsky Lavra (the Alexander Nevsky Monastery) was constructed by the order of Peter the Great at the end of Nevsky Prospekt where he commanded to place the relics of St. Alexander Nevsky (the patron of the new Russian capital). Among the buildings of the Monastery there is a majestic Holy Trinity Cathedral built in the style of early classicism, the Lazarevskoye Cemetery (necropolis of the XVIII century) and the Tikhvin Cemetery (necropolis of Masters of Arts, the burial place of Lomonosov, Suvorov, Karamzin, Mussorgsky, Tchaikovsky, Dostoevsky and other prominent figures of Russia).
---
Add this excursion to my tour