Confirm action
Making a new order will create a new environment. You can always continue editing your previous order by clicking on the link sent by e-mail
Excursion to the places associated with Peter I (by car)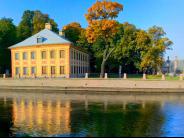 The guided tour by private car or bus to the places associated with the life and activities of Peter I and foundation of St. Petersburg. During the tour you will visit his favorite place - Summer Garden which locates the Summer Palace of Peter the Great (the first palace in St. Petersburg). The interiors are oak decorated mainly that confirms the great interest of the Tsar in shipbuilding as during those times oak was used exclusively for the needs of the navy. The Summer Palace is a witness the life of Peter and is preserved to nowadays almost unchanged.
Then we will visit Peter and Paul Fortress, construction of the fortress is considered to be the birthday of St. Petersburg. Peter I was personally involved in the drafting of the fortress. You will have a stop at Peter and Paul Cathedral, the burial place of Russian tsars the last of which were Nicholas II and his family, and visit the grim cells of the former prison that used to be main political prison under the tsarist regime and called "Russian Bastilles". And, of course, you will be given a unique opportunity to take pictures on a granite embankment Commanders' pier, one of the most beautiful views of places on the Neva River.
We will see the house of Peter I, the very first house in the city. Today it is the only surviving wooden structure of Peter's time. Finally, we will visit to Menshikov Palace, the mansion where lived a talented commander and first Governor of Saint - Petersburg Alexander Danilovich Menshikov (the associate of Peter I). You will enjoy the exterior of the building built in a mixture of different styles: the Petrine Baroque, elements of old Russian architecture and Italian Renaissance (Italian "palazzo"). The interiorы of the palace will delight you with decorations with gold, silver, marble, rare types of wood, Dutch tiles, paintings, moldings and huge Venetian mirrors. Menshikov Palace is considered one of the most luxurious residences in Russia.
---
Add this excursion to my tour