Confirm action
Making a new order will create a new environment. You can always continue editing your previous order by clicking on the link sent by e-mail
Guided walking tour of St. Petersburg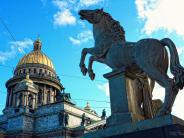 During this tour you will walk through the center of St. Petersburg and have an opportunity to get acquainted with the historical and architectural heritage of the city and see its main sights.
The tour will start with a walk along the main street of the city - Nevsky Prospect. You'll admire the sculptural composition on the Anichkov Bridge, walk along the Fontanka River where we'll make a brief stop to toss a coin for good luck to the famous statue of "Chizhik Pyzhik" and hear an interesting story about this funny little bird. Afterwards, we'll pass the Mikhailovsky (Engineering) Castle - the former residence of Emperor Paul I, walk through the Mikhailovsky Garden all the way to the Church of the Saviour on Spilt Blood (masterpiece of Russian Orthodox architecture built on the spot of the assassination of Tsar Alexander II); Walk across Konushennaya Square and along the Moika River embankment towards the Palace Square where you will admire the Triumphal Arch of the General Staff building of the Hermitage Museum, the Winter Palace and the Alexander Column.
Get back to Nevsky Prospect and see the Stroganov Palace, Kazan Cathedral, Gostiny Dvor and other sights.
---
Add this excursion to my tour