Confirm action
Making a new order will create a new environment. You can always continue editing your previous order by clicking on the link sent by e-mail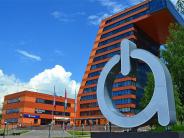 The scientific town Akademgorodok, located 30 km / 18 miles away from Novosibirsk, is the only scientific town in the world, where all the branches of sciences are represented. For this reason, it is sometimes called the "Scientific Vatican" by western media. Enter Akademgorodok via Lavrentiev Prospekt, marked by the Guinness Book of World Records as the "world's most scientific street." See the Ob River Reservoir, called the Ob Sea by locals. Learn the history of this town and visit one museum of your choice:
Archeological Museum at the Institute of Archeology and Ethnography;
Geological Museum at the Institute of Geology and Geophysics;
Open-Air Train Museum with a huge collection of Soviet locomotives and railway carriages.
---
Add this excursion to my tour