Confirm action
Making a new order will create a new environment. You can always continue editing your previous order by clicking on the link sent by e-mail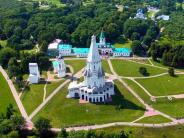 Kolomenskoye was once the royal residence and patrimony, and today it is a beautiful historical and cultural monument with a vast territory of 390 hectares as part of the united Moscow State Museum-Reserve. In the southeast, the park overlooks the Moskva River embankment, pleasure boats depart from the pier.
Most of the territory is untouched nature: forest, ravine, hill, descent to the river, but there are also many historical and architectural sights.
A large number of architectural, natural and archaeological monuments have been preserved on the territory of Kolomenskoye. Almost all of them were restored and put in order. Some buildings are transported here from other places.
---
Add this excursion to my tour