Confirm action
Making a new order will create a new environment. You can always continue editing your previous order by clicking on the link sent by e-mail
Trip to the Taltsy open-air wooden architecture museum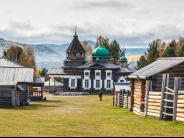 A trip to the wooden architecture museum Taltsy. In the museum you'll see the settlements of indigenous Siberian people of 17th-20th centuries. Some of the buildings presented in the museum were brought there from the villages that were flooded after building a dam in Irkutsk. You'll have lunch in the authentic restaurant and have some free time to walk around.
The museum looks like an ancient village with long streets, wooden houses, water mills and even a small school.
The museum complex is divided into three sectors. One of them is devoted to traditional structures of Buryat people inhabited the Irkutsk territory to the west of the Baikal. The largest sector displays the log structures from the Ilim area erected by Cossacks in the 17th-century. Located in a grove, the smallest sector is dedicated to the indigenous nomadic Evenk people, which is believed was the most ancient population lived the area.
---
Add this excursion to my tour