Confirm action
Making a new order will create a new environment. You can always continue editing your previous order by clicking on the link sent by e-mail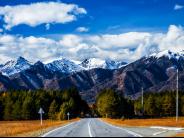 Arshan is a Buryat village located in the Tunkinskaya Valley (altitude 893 m. above the sea level). The road to Arshan takes about 3-4 hrs one way. You'll make a stop on the way where you can have lunch (paid on spot).
Upon arrival you will have a tour around Arshan. Enjoy a beautiful hike up to the 1st waterfall on the Kyngyrga River (2 km one way). Visit to the so-called healing spring and experience its true powers on yourself.
Visit to the Buddhist temple. You will also see a silent volcano – life evidence of volcanic activity at the end of the ice age. You will have some time to walk around and buy some souvenirs. After the tour you will be transferred back to Irkutsk.
---
Add this excursion to my tour