Confirm action
Making a new order will create a new environment. You can always continue editing your previous order by clicking on the link sent by e-mail
Tour to the Summer Palace and the Olympic Park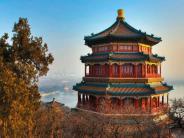 For several centuries, the Imperial Summer Palace was the second most important residence of the imperial family. Externally, it is very different from the strict and official Forbidden City - stunning views and elegant gardens set up more for rest than to solve issues of national importance.
Both the park and the palace have acquired their present appearance relatively recently. At the end of the 19th century, they were almost completely destroyed by the troops of France and Britain, and then rebuilt anew by the widowed empress Cixi. At the same time, the park received its modern name - "Iheyuan" - which can be literally translated as "gardens of preserved harmony".
The Olympic Park in Beijing is located in the northern part of the city and forms a continuous central axis with the old buildings of the capital. The park was erected for the Olympic Games in Beijing in 2008. The total area of ​​the Olympic Complex is 1135 hectares. The Olympic Center consists of a sports stadium with a capacity of 91 thousand people, an indoor stadium for 20 thousand spectators, and a swimming center that can accommodate 17 thousand people.
---
Add this excursion to my tour