Confirm action
Making a new order will create a new environment. You can always continue editing your previous order by clicking on the link sent by e-mail
Tour to to Jingshan Park and Hutong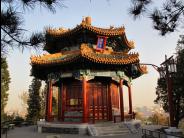 In Beijing, north of Gugun, Jingshan Park is located. Translated from Chinese, Jinshan means "a view from the mountain", or "a mountain with a beautiful view". The height of the Forbidden City, Beihai Park, the Drum Tower, the old and modern quarters of Beijing, as well as the mountains to the west, offer a breathtaking view from the 46-meter height. It is from here that one can see how ancient imperial buildings and modern structures of glass and concrete harmoniously coexist.
A park of more than 230 square meters was built in the era of the Ming Dynasty. Jingshan consists of five hills, on top of each of which there is a palace-pavilion with a statue of Buddha inside.
Gray brick walls, as if grayed out from the past years, small courtyards, each of which has a single entrance, fanzi, enclosed in strict squares, close proximity and life reviving before our eyes - these are all Hutongs, narrow streets in the heart of modern Beijing.
Hutongs are residential neighborhoods in Chinese cities, which appeared in the distant past. By the view from above, they resemble a tangled labyrinth of narrow streets and oblong courtyards, the gates in which are necessarily located on the east or south side, in order to give as much light and heat to its inhabitants. Literally from the Mongolian, the word "Hutong" means "well", one of the most important phenomena for those times when water supply was not invented.
---
Add this excursion to my tour