Confirm action
Making a new order will create a new environment. You can always continue editing your previous order by clicking on the link sent by e-mail
Tour to Hutong, Drum Tower and Shichahai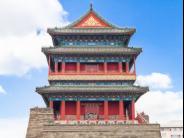 Hutongs are residential neighborhoods in Chinese cities, which appeared in the distant past. By the view from above, they resemble a tangled labyrinth of narrow streets and oblong courtyards, the gates in which are necessarily located on the east or south side, in order to give as much light and heat to its inhabitants. Literally from the Mongolian, the word "Hutong" means "well", one of the most important phenomena for those times when water supply was not invented.
In the Shichhay district, in the center of the capital, there is the Drum Tower (Gulou), which was originally built under the emperor Zhiyuan in 1272. This tower was called Zizhen Low, which translated meant - coming from 7 ancient Heavenly Clans: Tree, Gold, Fire, Water, Sun, Earth and Moon.
To the north of the Beihai Imperial Park, a chain of three lakes stretches, which the Chinese, inclined to exaggeration, called Shichahai, that is, "ten lands and seas".
---
Add this excursion to my tour