Confirm action
Making a new order will create a new environment. You can always continue editing your previous order by clicking on the link sent by e-mail
Tour to the Forbidden City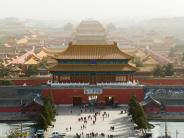 The Forbidden City of Gugun is the largest and most famous palace complex in the world, located in Beijing. It served as the residence of twenty-four powerful rulers of two dynasties of the Celestial Empire - Ming and Qing.
The place for its construction was determined by astronomers and it is, in their opinion, exactly in the center of the globe.
Today, heading to the Forbidden City, you just have to go through three gates: Tiananmen, Duanmen and, finally, the main gate of the palace - Umen. In former times, for foreign ambassadors and officials, the path to the palace was longer: they passed through five gates.
All the decoration and design of the Forbidden City is permeated with the philosophical and religious ideas and principles of China, including that the emperor, despite all his greatness, must be fair and wise.
---
Add this excursion to my tour