Confirm action
Making a new order will create a new environment. You can always continue editing your previous order by clicking on the link sent by e-mail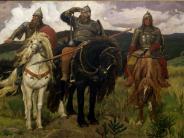 The State Tretyakov Gallery is the national treasury of Russian fine art and one of the greatest museums in the world. The history of the gallery started with works of art donated by famous philanthropist Pavel Tretyakov. After his death, the collection continued to grow, especially after the October Revolution when the nationalization took place and many of the exhibits were privatized: some were bought, other were given or transported from other museums and private collections, cathedrals and monasteries.
Today, the museum has the world's largest collection of Russian art and contains more than 130 000 examples of ancient Russian painting, sculpture and graphics, created throughout the centuries. You will have an opportunity to admire the most fully represented Russian art of the late XIX - early XX centuries, enjoy the Baroque portraits, classical canvases, the first Russian townscape, historical paintings and romantic landscapes and see paintings of Vasnetsov, Shishkin, Repin, Serov, Vrubel, Kustodiev, Levitan and other famous artists.
In 2000 the museum opened one of the last exhibition of works created in 1950-1990.
---
Add this excursion to my tour