Confirm action
Making a new order will create a new environment. You can always continue editing your previous order by clicking on the link sent by e-mail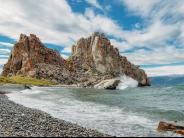 A trip to Listvyanka by car. Guided tour to the local Baikal museum that has a set of aquariums. There is one with the only mammal representative, the Baikal Seal, in it. Your guide will show you the famous Shaman Rock and tell you the legend about the naughty Angara River.
Take a chair-lift to a nearby view point. There you'll get a chance to take panoramic pictures of Baikal from above.
Lunch with Baikal cuisine. Enjoy your visit to a local 19th century wooden St.Nicolas church and a local fish market where you'll see a great variety of fish.
---
Add this excursion to my tour