Confirm action
Making a new order will create a new environment. You can always continue editing your previous order by clicking on the link sent by e-mail
Tour to the Peter and Paul Fortress (the history of the founding of the city) (by car)
3 hours
Holiday: Wednesday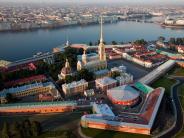 In addition to a standard guided city tour (by private car or bus) around the city center of St. Petersburg you'll have one longer stop visiting Peter and Paul Fortress.
This is one of the main attractions of St. Petersburg and the most popular one among tourists as the fortress is a symbol of the city. Peter and Paul Cathedral is the burial place of Russian tsars the last of which were Nicholas II and his family.
Start of construction of the fortress is considered to be the birthday of St. Petersburg. Peter I was personally involved in the drafting of the fortress.
You can also visit the grim cells of the former prison that used to be main political prison under the tsarist regime and called "Russian Bastilles". And, of course, you will be given a unique opportunity to take pictures on a granite embankment of Commanders' pier, one of the most beautiful views on the Neva River.
---
Add this excursion to my tour